Textbook Fundamentals of Service Systems
Editors: Jorge Cardoso, Hansjörg Fromm, Stefan Nickel, Gerhard Satzger, Rudi Studer, and Christof Weinhardt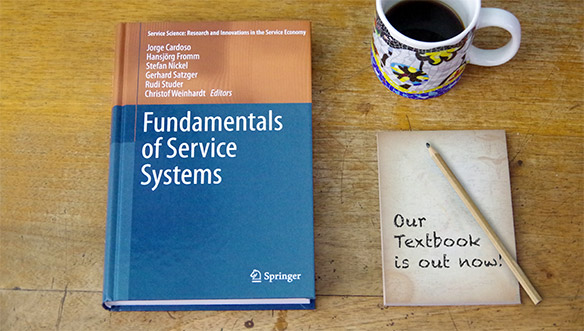 This textbook is an introduction into service systems for students, teachers, researchers, and practitioners. It has been written by leading experts in the field from the Karlsruhe Service Research Institute (KSRI), Germany. The targeted university audiences are undergraduate and graduate students in business economics, information systems, service engineering and management, and computer science.
The book is based on lectures that have been taught at the Karlsruhe Institute of Technology (KIT) for many years. It is the first textbook that provides a combined view on service systems from an economical and from an information technology perspective. The entire lifecycle of service systems is addressed, ranging from service innovation, design, implementation, management, improvement and trading associated with service systems engineering. To improve reading, understanding, and memorizing, every chapter starts with a Summary, Learning Objectives, an Opening Case, and ends with a Conclusion, a Review Section, a Project, Key Terms, and Further Reading:
Foundations: Service-oriented Societies. Basic Principles of Services. Services and Goods.
Electronic Services: Perspectives on Services. Services as the Automation of Activities. Services as Programming Paradigms. Web Service Technologies. Cloud Services. The Internet of Services.
Service Innovation: An Introduction to Innovation and Service Innovation. Managing Service Innovation - Selected Methods. The Servitization of Manufacturing.
Service Design: Introduction. Design Process. Design Methods.
Service Semantics: Cloud Services. Foundational Technologies. Linked USDL. Service Search Algorithm.
Service Analytics: Information Gap. General Notion of Analytics. Analyzing IT Services. Other Methods. Tools and Software.
Service Optimization: Introduction. Operations Research Foundations. Operations Research Problems. Solution Methods.
Service Co-Creation: Key Concepts of Service Co-Creation. Customer Relationships. Customer Participation.
Service Markets: Microeconomics. Market Engineering. Testbedding Service Markets. Pricing Strategies. Complex Service Networks.
Service Research: Advanced Topics. Service Network Analysis. Service Level Engineering.
Out now!
The textbook has been published by Springer. You can get a first impression via GoogleBooks or further information at the official Springer Website.
What to expect?
Expect views at service systems from an economical and from an information technology perspective. The textbook contains a foreword by Jim Spohrer, Director of IBM Global University Programs and driving advocate of the Service Science, Management and Engineering (SSME) initiative. It covers aspects of the entire service lifecycle: from innovation to design, pricing, analytics, and optimization.